BACK TO PREVIOUS PAGE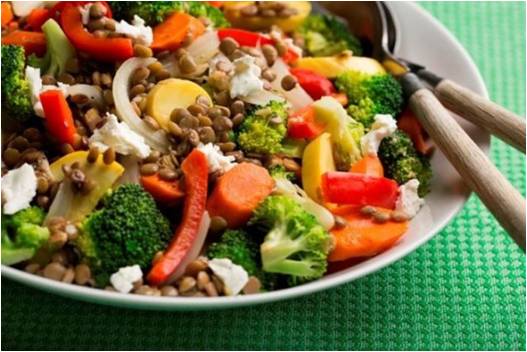 Rainbow Lentil Medley
---
Overview
Recipe Type: Entree
Serves 4
Ingredients
1 cup Daily Pantry Medley of Lentils
2 cups broth, chicken or vegetable
1 cup water
3-4 cloves garlic, minced
¼ teaspoon each black pepper and oregano
2 tablespoons fresh mint, finely chopped
6 cups mixed vegetables, thinly sliced or diced, such as broccoli, squash, onion, red bell pepper, carrots
2 ounces crumbled goat or blue cheese
Dressing
¼ cup lemon juice
2 tablespoons olive oil
1 tablespoon Dijon mustard
Directions
In a medium pot, bring broth and water to boil. Add lentils, garlic, black pepper and oregano. Reduce to simmer, cover and cook for 20 minutes. Drain any remaining liquid.
Meanwhile, in a steamer, cook vegetables until just tender.
Put lemon juice, oil and mustard in a small jar and shake until blended.
Put all ingredients, except cheese, in a large bowl and toss.
Sprinkle cheese on top.