BACK TO PREVIOUS PAGE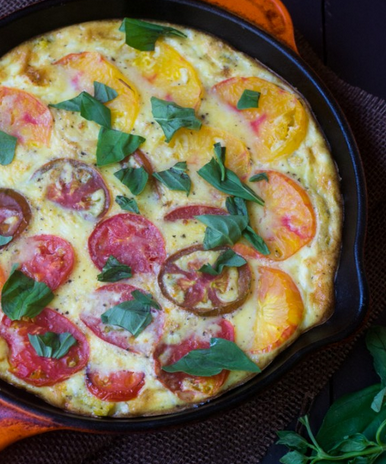 Heirloom Tomato and Polenta Quiche
---
Overview
Recipe Type: Entree
Serves 4-6
Ingredients
Polenta Crust
Salt and pepper, to taste
2 sprigs rosemary, leaves removed and chopped
2 sprigs thyme, leaves removed and chopped
1 small sprig Rosemary, chopped
1 tablespoon freshly grated Parmesan cheese
2 tablespoons unsalted butter
½ cup cornmeal
1 ¾ cup Daily Pantry Vegetable Broth
Quiche
4 eggs
¼ cup ricotta cheese
2 tablespoons heavy cream (or half and half)
¼ cup freshly grated Parmesan cheese
Salt and pepper, to taste
2-3 medium sized heirloom tomatoes, sliced thin
Few leaves of fresh basil, roughly torn for garnish
Directions
In a small pot, bring stock to a gentle boil then add cornmeal and herbs. Mix together for about 15 minutes until it becomes thick. When it's thick, add butter, Parmesan cheese and salt and pepper. Taste for seasoning. Set aside.
Spread polenta mixture into an oven safe skillet (I used cast iron), spreading the polenta evenly and a little up the sides. Bake at 425 degrees F  for 10 minutes until the crust gets slightly hard.
In another bowl, whisk together the eggs, ricotta cheese, heavy cream,  Parmesan cheese and salt and pepper.
When done, pour egg mixture onto polenta. Top with sliced heirloom tomatoes, using a fork if they happen to sink. Grate more Parmesan if needed.
Bake at 350 degrees F until eggs are set and cooked through, about 20-25 minutes.
When done, allow to cool and top with freshly torn basil.
You Might Also Like