BACK TO PREVIOUS PAGE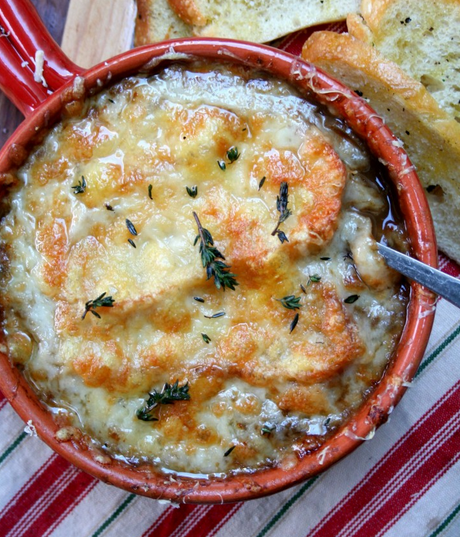 French Onion Soup
---
Overview
Recipe Type: Entree
Serves 8
Ingredients
3 whole Sweet Onions, thinly sliced
3 whole Yellow Onions, thinly sliced
1 stick Unsalted Butter
2 tablespoons Olive Oil
6 cloves Garlic, grated or minced
1 teaspoon Fresh Thyme, leaves removed and roughly chopped
2 heaping tablespoons Flour
1/4 cup Red Wine
1/4 cup Dry White Wine
1/4 cup Cognac
1 carton Daily Pantry Beef Broth
2 whole Bay Leaves
Salt & Pepper
1 whole French Baguette, sliced into thin crostini
8 ounces Gruyere, grated
Parmesan, grated
Directions
In a large pot heavy bottomed pot, melt the butter and add the olive oil over medium heat.
Add the sliced onions to the pot. Cook the onions over medium heat and frequently stir to caramelize the onions and prevent from burning. Season the onions with salt and pepper. The salt will bring out the sugars and help caramelize. This takes about 30 – 40 minutes.
Once the onions are browned and caramelized add the garlic and chopped thyme, cook until fragrant, about 30 seconds.
Add the flour and stir. Keep stirring the flour in until the flour taste is cooked out, about 2 minutes. Turn heat down to low and add the red wine, white wine and cognac, stir to deglaze the pot. Scrape up any brown bits on the bottom of the pot. Cook alcohol until reduced, about 2 minutes.
Add the beef stock, bay leaves, and season soup with salt and pepper. Bring to a boil and reduce to a simmer. Simmer for about 20 – 30 minutes. Take out the bay leaves and discard.
Preheat your oven to broil.
Lay your sliced French bread on a sheet pan and drizzle with a little olive oil and season with salt and pepper. Broil for a few minutes until toasted. Remove from oven.
Ladle the soup into 8 ramekins. Place a slice of toasted crostini on the soup and top with grated Gruyere cheese and grate parmesan on top. Place all the ramekins on a sheet pan. Place in the oven under your broiler, broil until the cheese is melted and golden brown